Original Japanese written by  staffer
The English below translated from the original Japanese by Heeday
The English translation edited by Rev. Dr. Henry French, ELCA
On Monday, January 25th, 2016, at "Waku Waku Square," St Paul's Kindergarten, Koriyama, the Project on Nuclear Power and Radiation held a program called "Kids' Yoga and Massage Class." The class was attended by children aged 2 to 3 and their mothers.
The program let the participating kids and mothers relax fully together. They had a good time, enjoying yoga, "finger plays" (playing with their own fingers as toys, like "This Old Man," "Where Is Thumbkin?" etc.), and massages with aromatic oil. Ms. Yoshie Hatakeyama was the instructor.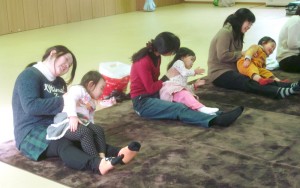 At first, the kids seemed a bit nervous, but their tension gradually subsided as they did "finger plays" and warmed up doing yoga with their moms.
When the kids were free of tension, their mothers massaged them with vegetable oil, beginning with the ankles and gradually extending to the whole body.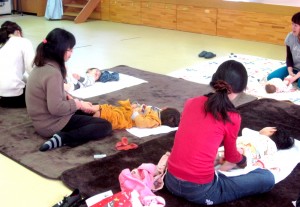 While being massaged, the kids were totally relaxed and looked sleepy.
The massage was followed by teatime and discussion with the instructor. Some mothers asked the instructor questions on parenting, and Yoshie gave them advice. The participants, both kids and moms, had a really good time of relaxation.