Original Japanese written by  staffer
The English below translated from the original Japanese by Heeday
The English translation edited by Rev. Dr. Henry French, ELCA
(Based on an article from the January 27th, 2016 edition of the Asahi Shimbun newspaper)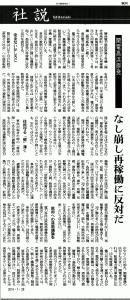 Kansai Electric Power is restarting Unit 3 of its Takahama Nuclear Power Plant (NPP), located in Takahama Town, Fukui Prefecture (some 40 miles north of Kyoto) on January 29th, 2016. This will be the next NPP restart, following that of Units 1 and 2 of Kyushu Electric Power's Sendai NPP.
Japan's power companies have applied for restart inspections by the Nuclear Regulation Authority (NRA) for 25 of the nation's 43 "workable" NPP reactors, as well as the start-up of one under construction. Following Sendai and Takahama, Shikoku Electric Power is planning to restart its Ikata NPP's Unit 3 (located in Ehime, Shikoku).
The coast of Wakasa Bay, Fukui, accommodates 15 NPP reactors in all, including some being decommissioned. This is one of the heaviest NPP concentrations in the whole world. In this post-Fukushima age, we face a serious question: What would happen, if a disaster hits the coast and multiple reactors experience incidents simultaneously? No one has answered this question so far. The NRA has practically ignored this deadly possibility in its inspections so far.
In 2016, Kansai Electric Power, which has 11 reactors in Fukui, decided to keep using three of them that are more than 40 years old although it has decided to decommission two other smaller old reactors. Many have pointed out that the power company is reluctant to minimize the risks accompanying NPPs. What makes the Takahama restart even more worrisome is that it employs MOX fuel, a mixture of uranium and plutonium.
Moreover, the surrounding prefectural governments have evacuation plans for the residents around the NPP that are obviously impractical should there be a major NPP accident. The relevant law requires an evacuation plan to be set up for people living within 30km (18.8 miles) of a NPP. Within 30km of Takahama lie 12 municipalities in three prefectures, Fukui, Shiga, and Kyoto. The population within the radius amounts to some 179,000 people.
Around the end of 2015, "Genshiryoku Bosai Kaigi" (Nuclear Disaster Control Committee), led by the Prime Minister of Japan, approved the large-area evacuation plans prepared by the three involved prefectural governments. In the worst case of a NPP accident, according to those plans, those residents within 30km of the NPP are to flee to 56 municipalities in four prefectures, Fukui, Hyogo, Kyoto and Tokushima. Of those 56 municipalities, however, only seven so far have prepared a plan to accommodate such refugees, according to a survey conducted by the Asahi Shimbun. Most of the 56 came up with replies like, "We are not sure if we can secure the necessary facilities, personnel, commodities, etc.," and "We are worried that some automobiles contaminated with radiation could come into our town."
Responding to the anxieties shared by numerous residents, many of the municipalities within 30k of a NPP claimed to Kansai Electric that they have "consent rights" with respect NPP restarts. Kansai Electric denied the claims. The national government also denied them, saying that the consent required is that of the municipality directly hosting a NPP alone.
Now, have you ever heard of Iidate Village, some 50km (31 miles) from Fukushima Daiichi? Before the meltdown, this village was renowned for its natural beauty, and was listed among "Japan's most beautiful villages." Outside the 30km range of the NPP, Iidate was believed to be absolutely safe from a NPP accident when the plant was built. Thus, no financial compensation was paid to this lovely village when the NPP was constructed. Still, the meltdown brought devastation to the villagers. When the meltdown began, the air dose rate reached as high as 44.7 mSv/h in the village.
Nevertheless, the relevant governments—national, prefectural, and the village's own government—covered up the hazard. Not until a month after the disaster began was an evacuation order given to the villagers. This delay was highly costly. Some 80% of those Fukushima residents exposed to 5 mSv of radiation or more shortly after the meltdown began were from Iidate.
Now, imagine a major accident at Takahama NPP with insufficient evacuation plans in place, even for those residents within 30km of it. And the NPP has many neighboring municipalities as well. What would happen then? I definitely hope the "NPP safety myth" will never come back again.
The current NPP restarts ignore the people's voices and leave many serious issues unattended. In short, such restarts make light of human lives.